Here are some resources, such as books, courses, and equipment that may be helpful to filmmakers and videographers. Affiliate disclosure: I may receive a commission if you purchase products from these links.
$30 Film School, Second Edition
is a very informative and readable introduction to all aspects of making your own movie very inexpensively. Every aspect of the art is covered, from funding to equipment to techniques. While the second edition of the book came out in 2006, in today's world it is already slightly out of date in that there is no mention of the ultimate DIY filmmaker's medium-the web, as in Youtube. Actually, Michael Dean has recently co-authored another book on this very topic, which I'll be buying and reviewing in the near future!
Looking for a decent quality, low-budget camcorder? Here's one that's currently just over $100:
Recommended Video Editor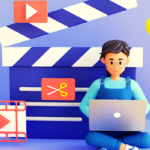 Invideo is a good, easy-to-learn tool for making and editing your own videos. If you pay for a year, you can get it for $180 or $15/per month. It includes access to lots of copyright-free graphics and video clips as well as music.